How do you become the company that everyone wants to work for?
Well, maybe you already are a great employer, but it's a well-kept secret. Communicating that you are a great company, and encouraging and engaging your happy employees to communicate that they believe you are a great company too, is at the essence of employer branding. I recently gave a presentation on employer branding at Viola Group to their portfolio companies' HR and R&D VPs. Check out the presentation below or read below my article originally posted on the Viola-Notes blog.
All it takes is some code and a dream to become the next Israeli startup success story, right? The technology scene in Israel is flourishing, and as more and more tech companies start up and the established ones continue to grow, competition for talent to write, package and sell that code is growing as well.
It's arguably an employees' market, and the talents can decide which company best suits them, but they have precious little information to predict which company will give them the best return for their efforts. They ask their friends and family and search the web for insight, and this is when your employer brand becomes pivotal.
What is your employer brand reputation? How do people from the outside see your company? Before developing your employer brand, you need to understand how the workforce sees you.
First, ask your newest employees why they preferred your company over other options. Next, ask the employees who have been with you a while, what makes them ignore inquiries from other companies. Finally, ask people who have been through the HR process with your company and turned down your offer, why they turned it down (in case the reason relates to something that you can work on to improve).
What is your company's story? Who tells it, how and where? Every company has a story, and generally, it is told in a number of different ways by a number of different people.
It's management's job to define a narrative that encompasses where the company comes from, where it is now and where it is going, and to help everyone align under the approved story.
HR, R&D, Marketing, the rest of the team, company alumni, social media followers, the press, anyone who has read the press, and more, are all in a position to influence a potential employee's impression of your company. By keeping the story as consistent as possible within the company, chances are good that the story will remain the same outside the company as well.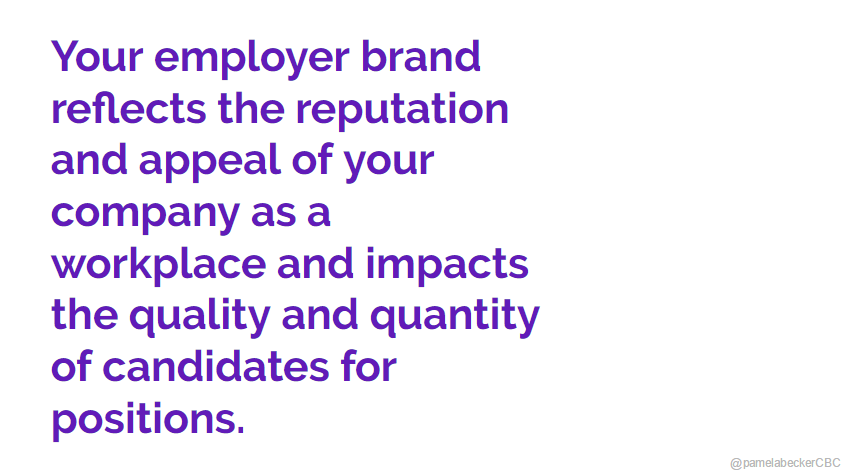 Who are you looking to hire, and what do you know about them? As with any marketing effort, you need to understand your audience and how to best reach them.
What are they looking for in an employer? What motivates them? What do they read? Where do they look for professional answers? Are they looking at LinkedIn or StackOverFlow or both? Do they read tech blogs, business papers, or both? Your Head of R&D can help direct you so you invest your time and effort in the correct places.
Be heard in all the noise. Reach your target audience using a wide range of channels.
Leverage the communications tools and resources that already exist in your company, and point them in the direction of your current and potential workforce.
Distribute a company social media policy, hashtags and handles to your employees, and encourage engagement on official and unofficial social media assets. Provide key employees with (optional!) company-branded LinkedIn headers. For example, look at how ironSource uses branded profile and header images on LinkedIn to set their executives apart.
Leverage positive press to help shape the perception of your company among your potential workforce and the people who influence them.
Develop and distribute content that is of interest to your potential workforce. When job-seeking programmers learn from an insightful article written by a developer at your company, they get the message that this is a place where people have something to say…and are heard.
Use your current internal communications tools to help amplify and distribute branded content. Your employees are interested in reading each other's articles and celebrating their milestones, so whether you use a company newsletter, Facebook at Work, or internal group emails, make it easy for them to support and share each other's brilliance.
Have a branded presence at relevant meetups, hackathons and conferences. Whether you have a speaking slot, your team is milling the crowd in company shirts, or you give out the coolest stickers, demonstrate that you are leading or at least included in the conversation.
It is no longer just about whether you contribute to any causes, but rather how. If your company is not giving back at all, it's time to start, and if you are already giving back, then it's time to start talking about your corporate giving and/or volunteering. Good Deeds Day is an excellent opportunity to kick-start branded, community activities for your company in a sharable way.
Always be kind when people leave no matter the reason. Former employees eventually find new jobs, and when asked what it was like to work at their previous job (your company) – if they can recall that you parted ways amicably, they should have no reason to say anything but kind things.
How do you know if it's working?

Define your success benchmarks in advance and decide how you will measure your activities. For example, if your primary goal is recruitment, measure each of your efforts by comparing the cost-per-candidate and the cost-per-new-employee for each channel. Then refine and focus – and do it all again.
Good luck! What did I miss? Please let me know what has worked for you!